Bought for the young Shirley Temple by her father as an investment for her when Shirley was 12, in 1940, this 9.54 ct flawless blue diamond was set in platinum. Shirley wore this diamond her entire life. Mr Temple paid the enormous price at the time of $7,210.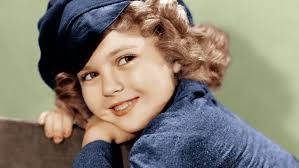 The ring held by her estate after she died in 2014, was bought privately. Two years after the buyers put it up for auction at Sotheby's hoping to reach 25-35 million. When it didn't not meet the reserve and was passed in the ring was acquired by the jewellery dealers Windsor Jewellers, who took the chance to re-cut the flawless jewel.
The outcome was a 9.3 carat richer blue, diamond which will be forever known as the blue diamond that was loved and worn by the great Shirley Temple.