It took 50 years for this little tale to come to a happy ending. Recently a lady purchased a pair of hand made white mabe pearl earrings in a clip on from my Etsy e-Boutique. I just love my little Etsy store as some of my customers kindly share stories on why they choose a particular piece. Here's a ripper!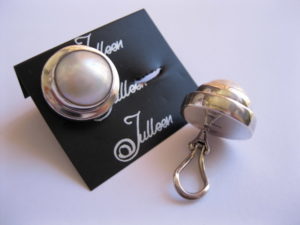 I found this tale so unique I just had to share it. An American couple was posted here in Perth, Australia in the 60's and they bought a lovely pearl bracelet which remains a constant memory of a happy time, spent here. This bracelet was handed down to the grand daughter, who one day sees a pair of earrings that match her Gran's bracelet and they are in Julleen Jewels on Etsy. The granddaughter who wears her bracelet every day, bought the earrings from my store and they arrived in the USA yesterday. Her set of pearl jewellery is now complete. What are the odds on someone living in USA has a bracelet her Gran bought in Perth in the 60's then ends up not just finding a match anywhere  but actually purchasing it from a Perth designer. Such a nice story
Please read her review on my Etsy store. It's just fabulous!
https://www.etsy.com/au/shop/JulleenJewels?
I need more stars to review Julia and her shop. She has incredible customer service skills plus she has a great sense of humor. In the 1960s, my grandmother lived in Perth for about a year and bought the bracelet in the picture below before returning home to California. Fast forward 50+ years and I buy an incredible pair of handmade pearl earrings that are a perfect match. And they came from South Perth! The earrings are gorgeous and will be my go to staples. Simple and elegant just like Gram's bracelet.