For nearly twenty years I have been saying that original pearl jewellery designs matter. I have been making the "one of" pearl jewellery pieces, for as long as I have designing and manufacturing. It seems that finally individuals are looking for more ways to stand out from the crowd. Everyone wants to be unique and so at last we seem to be getting braver and want to wear things that are not mass produced. This idea sits well with me. The beauty of having a custom made item of jewellery, shows you are as unique as the design you are wearing. My slogan for Julleen Pearl Jewellery is "As Individual as You"! It actually means so much.
The luckiest clients I have are on Etsy right now as that's my e-store that showcases my one's of. I may repeat a design once it's sold but you can definitely be sure that what you buy in my Etsy store is unique and the quality will be top notch. https://www.etsy.com/au/shop/JulleenJewels
A client returned a necklace for service today. Some of the components had been lost after it had broken. Luckily for my client she knows the designer and so she asked me for help to mend the item she loved so much. See if you can spot the difference.
take a look – from this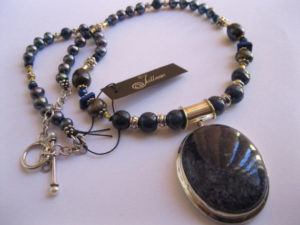 to this –