I discovered Julleen Pearl Jewellery and as a collector of fine jewellery was thrilled to find such a comprehensive range of Pearl and gemset handmade and designed pieces available here in Perth.I was amazed at how reasonably priced these exquisite designs were for the quality of the materials and the workmanship involved.
Over the last few months I have purchased many pieces all of which are
magnificent. Some of my favourites are my silver starfish earrings which are delicate and detailed and capture the essence of this delightful marine creature.They are earrings that I could wear every day as they are fun and will go with lots of different outfits.I recently had a bracelet made to match, a service which Julleen also offers which is very attractive as you can tailor make jewellery to suit your own specifications.
Janine is a statement piece that exemplifys Julleen jewellery with it's impressive stones, pearls and detailed silver work creating the necklace.
Aquarius is so stunning with the combination of Turquoise and Amethyst stones combined with Peacock pearls along the neckline. The Amethyst stones are cabachon polished so their smooth surface beautifully compliments the Turquoise in this piece. The necklace for me is made particulary unique with the use of the hexagonal shaped Turquoise at the cente giving it an Egyptian feel. I am thrilled to own it. Both of these colours are favourites of mine so it was quite irresistible to me.
I think the fun of shopping with Julleen as a collector is that you can delight in seeing beautiful gems being thoughtfully combined with wonderful pearls to create unique designs which you could only dream of.
Winsome Myers
---
I asked Julleen to make me a custom necklace and matching earrings based around my favourite colour, Jade Green. I wanted to be surprised and so allowed her creative freedom. And the result… Wow, a gorgeous green pair of drop earrings, nice and large enough to be noticed but not over powering. The necklace had a matching pendant to the earrings but with both silver and 22ct gold plated rings on either side. All this tied together with a lime green leather neck band. Now this might sound a bit odd to match, but when I wear it I ALWAYS get compliments. I wear a business suit with a white blouse and it makes the green really stand out. Thanks Julleen for your one off creation for me.
Denise Eagle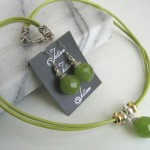 for more testimonials and feedback click here >