Centipedes are not the most endearing of creatures but  in Chinese  beliefs these little creatures are lucky. Especially lucky for gamblers, they say. Centipedes are also used in Chinese medicine. My love of pearls has also lead me to a path of appreciating Chinese astrology, Feng Sui, Chinese medicine and myths. Especially the myths! Hence my other pearled creatures written about February 1st. In Primal Astrology, Centipedes have the tropical sign of Gemini and are born in the Chinese Zodiac's year of the sheep. I was fascinated to read of some very famous Centipedes – Sir Arthur Conan Doyle (5/22/1859), Nicole Kidman (6/20/1967), Malcolm McDowell (6/13/1943) and Harriet Beecher Stowe.(6/14/1811). Wracking your brains yet, who are some of these people. Sir Arthur was the author of Sherlock Holmes and Harriet Beecher Stowe wrote Uncle Tom's Cabin and of course Malcolm McDowell is most remembered by the weird and wonderful movie A Clockwork Orange. I figure everyone knows Nicole so no need to expand there. All these amazing people are communicators and are indeed Centipedes.
The body shape of a centipede was perfect to make a pearled spine. As luck would have it a line of pretty button pearls was perfect for his body line and I added a two pronged tail. The outcome is somewhat more attractive as a pearl pendant than an actual centipede and am proud of it. Anyway as much as I like the idea of it being a good luck sign, I would rather carry a luck charm like this than the real thing. How about you?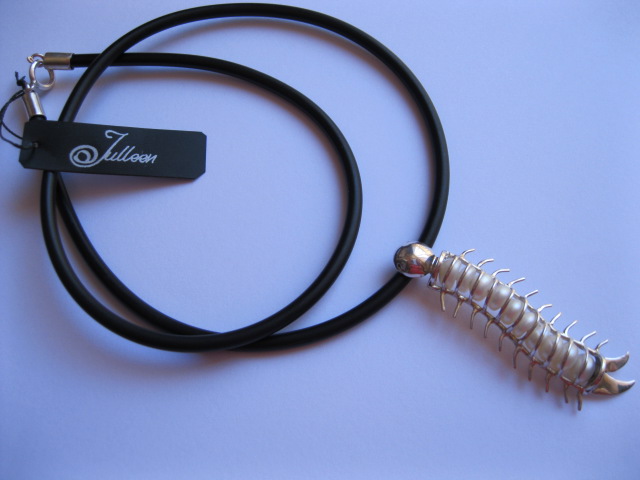 Buy it here : or at Woody Nook Winery Margaret River.

 http://www.julleen.com/product/centipede/
In many cultures centipedes were used to help treat snake bites. They are said to bring gamblers luck, general good luck.
---
Chinese symbols for centipede.
FAMOUS CENTIPEDES
Sarah Ramos (5/21/1991)
Robyn (6/12/1979)
Pete Wentz (6/5/1979)
Jesse Bradford (5/28/1979)
Nicole Kidman (6/20/1967)
Mia Sara (6/19/1967)
Max Casella (6/6/1967)
Anderson Cooper (6/3/1967)
Noel Gallagher (5/29/1967)
Glen Rice (5/28/1967)
Tim Berners-Lee (6/8/1955)
Sandra Bernhard (6/6/1955)
Dana Carvey (6/2/1955)
Connie Sellecca (5/25/1955)
Rosanne Cash (5/24/1955)
Newt Gingrich (6/17/1943)
Joan Van Ark (6/16/1943)
Malcolm McDowell (6/13/1943)
Joe Namath (5/31/1943)
Sharon Gless (5/31/1943)
Leslie Uggams (5/25/1943)
Gary Burghoff (5/24/1943)
Martin Landau (6/20/1931)
Marla Gibbs (6/14/1931)
Carroll Baker (5/28/1931)
Louis Jourdan (6/19/1919)
Pauline Kael (6/19/1919)
Gene De Paul (6/17/1919)
Muzaffer Tema (6/15/1919)
Gene Barry (6/14/1919)
Robert Merrill (6/4/1919)
Jay Silverheels (5/26/1919)
Rosalind Russell (6/4/1907)
John Wayne (5/26/1907)
Sir Laurence Olivier (5/22/1907)
Dorothea Lange (5/26/1895)
Douglas Fairbanks, Sr. (5/23/1883)
Sir Arthur Conan Doyle (5/22/1859)
Harriet Beecher Stowe (6/14/1811)