Here's a secret that is spreading around the globe. It's the Lobe Lift Secret Earring. Not only for lifting a heavy earring but helping with the look of an aging ear lobe that over the years has stretched and is not a pretty sight. There is a way to lift lobes without having to have an operation. And you can do it with an earring back, a very special prop UP bra for the ear lobes. No need, when the condition known as Droopy Lobe Syndrome, is not too servere to have an operation when you can buy a clever little gadget that does it for you every time you wear it. This earring props up the ear lobes, clear and simple.
http://www.julleen.com/product/lobe-lift-secret-earring/
I will add a video for you to view at the end of this blog, explaining the actual design of the lifter and you get to see it close up. However for now, let's look at some ears with earrings, with and without the Ear Lobe Lift and get a a better look at the butterfly clip that completely changes the look of a droopy ear lobe. To purchase it just click on the link above. Or the "Online Shop" button at the top left under HOME of this Blog.
This is how the Lobe Lift Earring comes to you. Each set of Lobe Lift "butterfly clips" (earring backs) comes with a Set of Sterling Silver 8 mm Ball Studs. This is our gift to you when you purchase the ear lobe lift.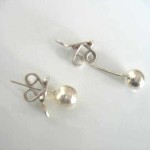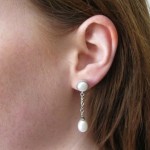 This last shot shows it can be worn with a drop earring also. See how the Drop Pearl Earring sits firmly and neatly on the ear lobe. It prevents dragging and stretching your ear lobe.
http://www.youtube.com/watch?v=Z17zX4yrUzs
Other articles written about the Lobe Lift Secret Earring for Droopy Ears
http://www.squidoo.com/droopy-ear-lobe-syndrome
http://www.hotfrog.com.au/Companies/Julleen-Pearl-Jewellery-Designs-Perth/Droopy-Ear-Lobe-Sydndrome-Wonder-Lobe-Lift-by-Julleen-Pearl-Jewellery-Designs-Perth-120885