Secret Lobe Lift by Julleen
If you have droopy ear lobe syndrome then this is the perfect solution. A Sterling Silver Secret Butterfly Lobe Lifting Clip. This ingenious invention by Julleen is a miracle lobe lift and comes as a ball stud earring with the magic back, that lifts and works wonders.
Droopy Ear Lobe Syndrome is a condition created over time (usually) due to wearing earrings that have been too heavy? If you want to raise your ear lobes, have perky young looking ear lobes and take years off the appearance of stretched ear lobes, then this little idea will be wonderful for your earlobes.
The support backs are usable on any earring for pierced ears and can make the lobes and any earring sit up and look firmer on. Yes it makes them sit straight up! A clever solution to hoist up the ear lobes without pain. A push up bra for the ears. No need for painful re-constructive surgery or sticky adhesives. One set will last a life time. This also makes a truly original gift idea for any one with pierced ears.
Purchase here
https://www.julleen.com/product/lobe-lift-secret-earring/
OR
Purchase directly by clicking on the Pink – "ONLINE SHOP"- button, to your left at the top of your screen.
And if you'd like to see more here's a video called – Droopy Earlobes. Enjoy!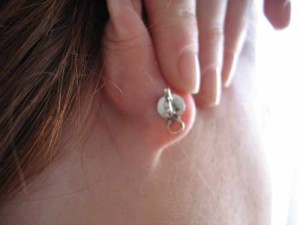 Look at the last two images of the model wearing the White 11mm Pearl Stud earring. The left one shows a lovely firm earring not pulling the ear lobe down or the earring flopping downwards. Now look at the right image. It's ever so slight but if you suffer with droopy earlobes you will notice that this (without the lobe lift) is pulling downwards. Once you wear the support back with any earring you'll wonder what the heck took you so long to get it. It's such a feeling of comfort when on. Try it and see.
You can purchase it on www.pearlearring.com.au also. Am so happy we have helped and continue to help so many people with the droopy earlobe problem with this amazing product.