This is a write up by Hotfrog about Julleen that was written a few years ago, I thought it was worth sharing again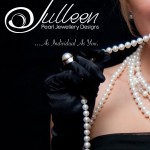 Julleen Pearl Jewellery Designs looks to Hotfrog to help launch the brand to a wider market
With almost 3.5 million unique users visiting the site every month, Hotfrog is quickly becoming the business tool of choice for small-to-medium sized businesses across Australia. Perth-based label, Julleen Pearl Jewellery Designs is one such company effectively utilising Hotfrog and experiencing increased success as a result. Director and designer Julia Ray has been with Hotfrog since it was first established in 2005 and now, six years on, credits a staggering 90 percent of the label's online sales leads made through Hotfrog referrals.
Overview
Julleen Pearl Jewellery Designs is a company born out of a passion for pearls. Following a decade in Indonesia, Julia developed an interest in jewellery making which, thanks to the support from her admiring friends, quickly gave her the confidence to expand her love of pearls beyond a hobby. She began selling her own unique sterling silver and pearl designs to the likes of Duty Free Indonesia and as a result of her success overseas Julia was able to establish her label, Julleen Pearl Jewellery Designs, locally upon her return to Perth in 2000.
Challenge
With the wholesale side of the business growing steadily, Julia needed to incorporate a consumer focus into the business plan in order to maintain steady growth across a broader market. To do so, Julia recognised that Julleen Pearl Jewellery Designs needed its own identity as a brand. Noticing the growing popularity of online shopping sites, Julia established her very own e-boutique and with the help of her son's design-savvy friend, created a more professional image and re-launched the new look label online, making it accessible and appealing to the wider online consumer market. Having never explored the possibilities of an online business — and with minimal funds — Julia needed to source marketing tools that would suit her needs.
Solution
Upon searching for free online business listings in 2005, Julia stumbled upon Hotfrog and within a few days, Pearl Jewellery Designs was listed and a long-standing relationship with Hotfrog as the chosen service to help market her business was established. As both companies have grown, so has the ability for Julia to update her Hotfrog profile at no cost, a feature which she says has allowed her to utilise the service as more than just an online listing, becoming a second website for her business. "Online marketing is a learning experience, you try something new, you monitor the reaction and either do it again or tailor it to make it work better", says Julia.
Result
With 90 per cent of all online business leads generated through Hotfrog, Julia is open about how much Hotfrog has contributed to her business success. "Hotfrog has been very rewarding and has opened so many doors for my business." Being online has allowed Julleen Pearl Jewellery Designs to extend its client-reach beyond Western Australian borders and as far as the UK where she is now beginning to establish a small following. As a result of the growing business' success, Julia, just this weekend, launched her new label Julleen Bridal, at Perth's premier bridal exhibition, where her new label was the sponsor of the fashion stage and where she christened her new bridal E boutique called My Bridal Jewellery, and Hotfrog as always, is her first port of call. "Hotfrog is a very powerful tool for internet marketing…I recommend it to everyone and anyone who is starting their own business.
Hotfrog URL:
http://www.hotfrog.com.au/Companies/Julleen-Pearl-Jewellery-Designs